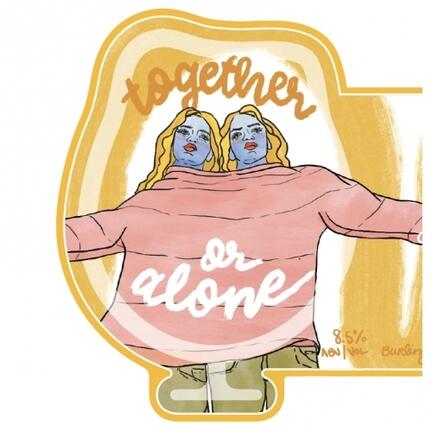 Foam - TOGETHER OR ALONE
70,00 kr.
55,00 kr.
Type : Double IPA
Alkohol: 8,5%
Størrelse: 473ml
Bryggeri: Foam Brewing
Land: USA
Untappd :
4,27
Double IPA brewed with oats and lactose. While we've grown fond of brewing with these ingredients on Lake Street, seldom have we canned beer with them. Save for our collab with Other Half (Made Up Dream) and a Bonus Track, this is a creamy depature from the norm of our canned offerings. Dry-hopped with Citra, Nelson and Galaxy, Together or Alone is 8.5% abv and presents a palette consisting of candied orange rind and crushed pineapple, with a creamy body, and dank finish.⠀

The art on this can was created by an artist we've been looking forward to working with for some time now. Caitlin Ryan (@cvit_ryvn) is a local artist living and working in Burlington. After studying studio art at UVM, Caitlin has been honing her style over the years, only presenting her work to the public more recently. Using past experience, photos, color, and the human form to convey a feeling, a place, or a moment, Caitlin creates beautiful, dream-like imagery utilizing a combination of watercolor painting and drawing. A friend and long-time supporter of the brewery, Caitlin is someone who we're proud to represent us in a creative way, and this can came out even better than we ever imagined.